Let's hear it for the boys!  
Destination wedding day menswear is about to kick off!  Alright girls, you know we love you.  But…I think we can all agree, the fellas get a bit left in the dust when it comes to all the fuss on choosing their destination wedding day menswear. Right?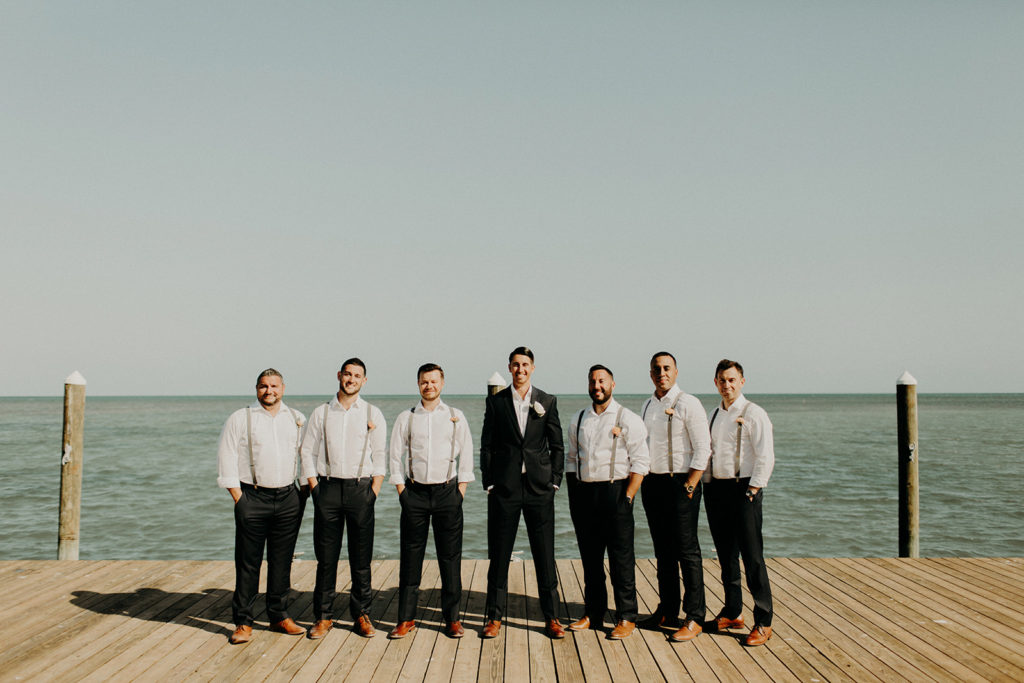 Bow tie or no bow tie? Jacket or no jacket? Suspenders? Shoes?! How in the world will we match the rest of the wedding colors without getting too "matchy-matchy"?
We hear these worries all the time. And for that very reason, we are jumping in to help! From the top down, let's dive in on how to pick the most marvelous wedding day menswear.
Here comes the bride
The same rules apply here as they do for everything else: ladies first. The bride should select her gown first, as that truly begins to set the tone for all else to fall into place. From there, select her best ladies' gowns together. Once that is settled…you are up!
Forming the foundation
Based on your blushing bride's selections, you will be able to understand the feel of your wedding celebration. Is this a formal function? Semi-formal? Maybe it's a more laid-back, fun, "I Do" barbecue? No matter what, make sure the feel of it all truly embodies you both as a couple, and celebrates you two in a way that feels at home to you both. For formal functions, we are going to want to look at tuxedos and full suits. Yes, this means jackets, gentlemen! Don't worry, you can shed them once the dancing begins. The biggest thing to remember here is: formal does not have to be impersonal. Make sure to select a color and style that not only flows with the wedding colors and theme, but still feels like you. And, of course, schedule multiple fittings until the suit feels as comfortable as a second skin. The ladies aren't the only ones who deserve to feel flawlessly themselves!
Once that's tackled, it's time to dress your best guys in their destination wedding day menswear. When facing a formal attire agenda, often it may seem intimidating asking your groomsmen to pony up such a large sum of money. In this event, we cannot recommend renting enough! We have seen the most seamless experiences from The Black Tux and Mr. Tux Rental.
For a formal or semi-formal function, we do recommend having your groomsmen order a tuxedo or suit style that matches yours. All the little details we will dive into in a bit will ensure you, the groom, stand out among the crowd.
Suit/Tuxedo…check!
Okay, the foundation has been set. It's time to tackle neck wear. For a formal event, we definitely recommend opting for a bow or tie. Just as we mentioned with your suit or tux, remember: feel free to have fun here! Using greenery or white hues in your boutonnieres? Your tie, suspenders or bow tie may be the place to add in a pop of unexpected color, or even a unique pattern. For the groom, this can also be a place to stand out. Maybe opt for a patterned bow tie while placing the rest of your gentlemen in a solid color. The sky is the limit! As long as you feel like you.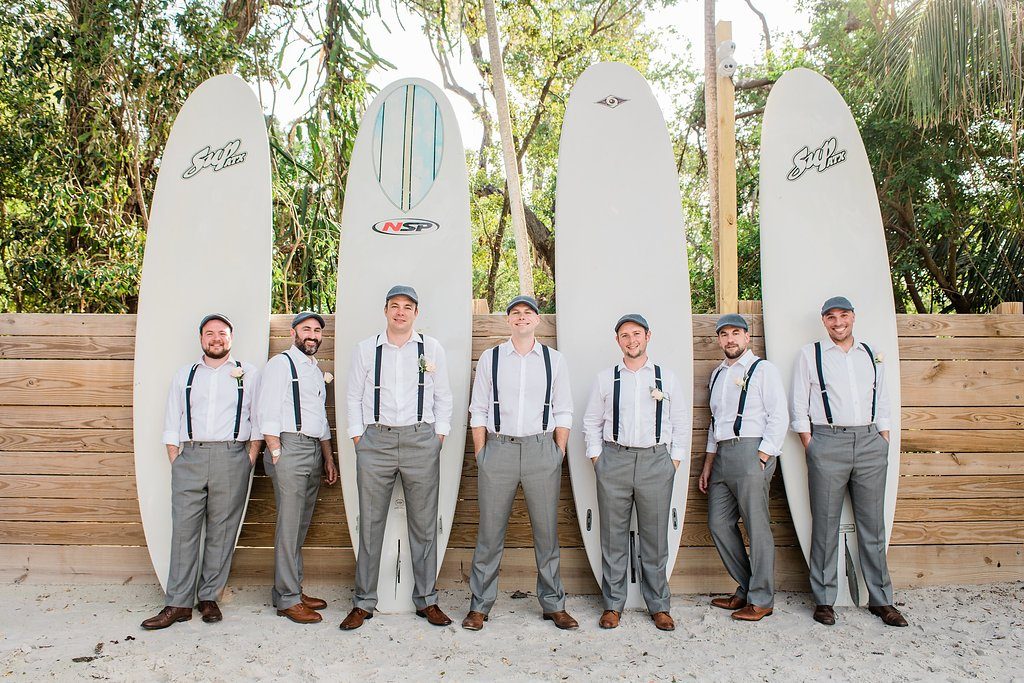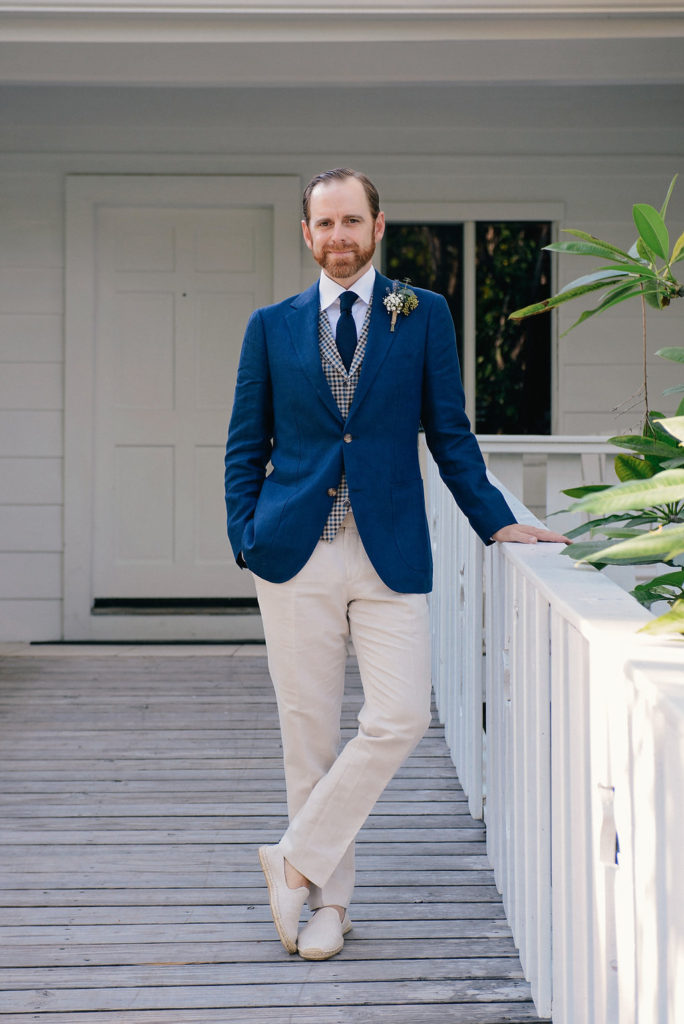 Now what?
As we continue downward, let's talk belts. It is best to match your belt to your shoes, especially if you are not wearing a jacket and the belt is more noticeable. Leather is best here, no matter the level of formal your event is. Sometimes, as seen in the surfer photo above, certain attire can escape a belt. That works, too!
Since shoes are often more important than selecting a belt, we suggest selecting your shoes and your groomsmen's shoes first, then selecting the complimenting belt.
If the shoe fits…wear it.
…Or don't! Maybe you and your wife to be are dreaming up an intimate, more casual, come as you are occasion. In that event, how could you say no to toes in the sand?
Not a fan of that? We recommend boat shoes for a more pulled together casual attire look. For formal and semi-formal weddings, we recommend dress shoes.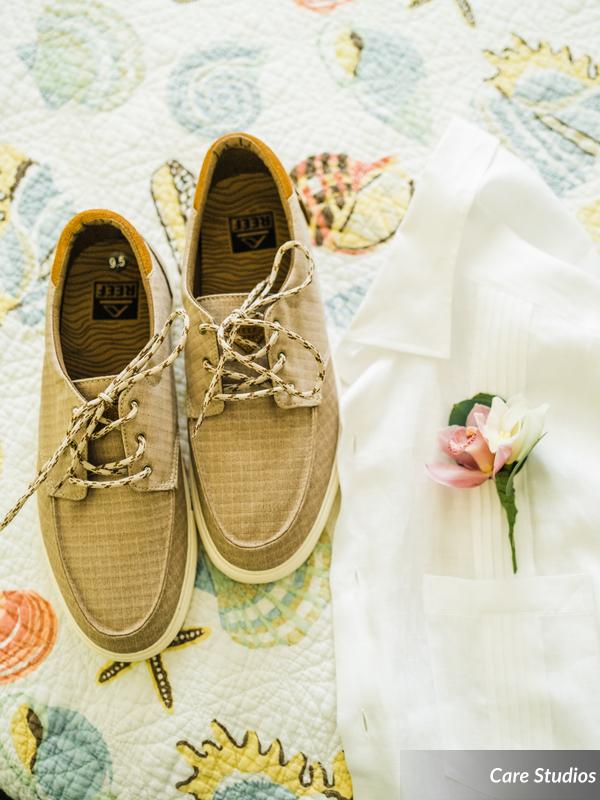 The cherry on top
What's left now? All the little details remaining are truly the cherry on top of your wedding day look. This can be where you really pull in your personality and have some fun.
Do you love to fish? How about having your florist create a fishing lure themed boutonniere? A huge fan of super heroes? Why not purchase some colorful super hero socks to be tucked under all that formal wear and revealed for a fun photo? Want to tug at your bride's heart strings? How about adding cuff links in her favorite color or birthstone?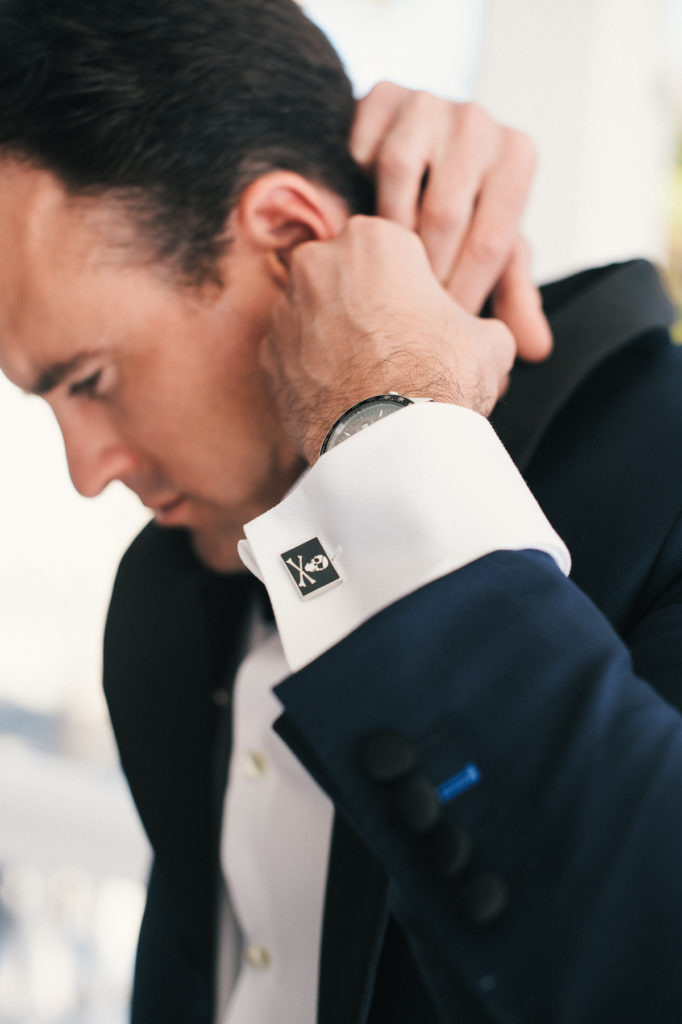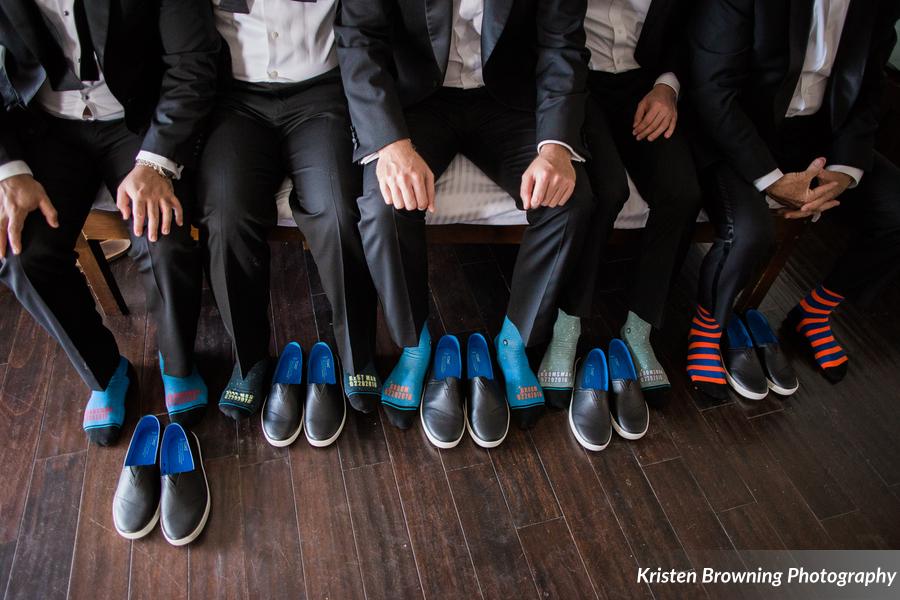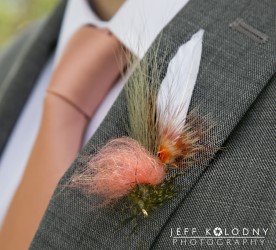 Remember to have fun
Phew…this can be as nerve-wracking as the proposal! We totally get it. But just as your glowing gal had a blast picking out her dress, make sure you do the same for yourself, too. Don't put yourself in a box. Your love story is completely unique—your wedding day look should be, too. We are rooting for you! And when the time comes, imagine us holding up an "I Said Yes To The Menswear!" sign and toasting to your selections. You and your groomsmen deserve it!
P.S.  For the guys also in charge of music, check out our blog on the top songs we have seen this past year here.
XOXO,