Our couples excitedly decide on each and every detail of their dream destination wedding day. But as they start planning their Florida Keys wedding, they can grow to be unsure if it will accurately paint the picture they have dreamed up in their hearts. Choosing your destination wedding day colors for your Florida Keys wedding should be fun!
The good news? There are so many different areas of the destination wedding details to use color in. The bad news, to some? There are so many different areas to decide on! It can become overwhelming, but let's spin the color wheel together and look at a few of our favorite wedding destination wedding color palettes. All of these Florida Keys weddings began with a deeply admired vision–just like yours.
Pink & Blue
Some couples choose their destination wedding day colors is based off of an overall feeling. Kathy wanted the colors of the soft blues, often seen as a backdrop color to a Florida Keys beach wedding. It is serene, and reminds her of how she feels when she visits the Florida Keys. Her favorite color is pink though, and her mother's favorite flower was peonies. We were able to pull in her vision together in a meaningful way by adding the blush pink peonies with the back drop of the pale blue bridesmaids dresses. Challenge, accomplished!
Fuchsia & Turquoise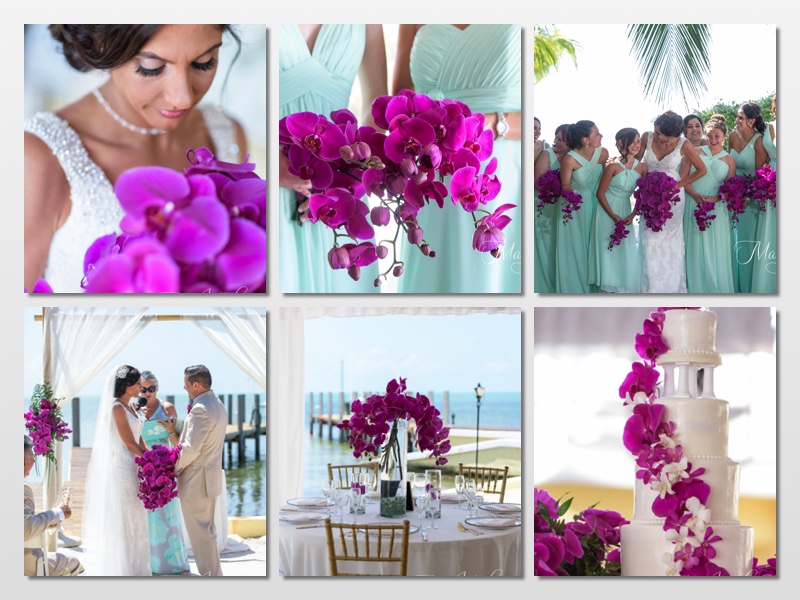 Some couples are instantly inspired by one specific photo they see. Naomi fell in love with a photo of fuchsia phaleonopsis orchids on a turquoise backdrop. She brought the photo to us, and held it tightly as she explained how beautiful it was. The bold saturation of colors excited her. She decided that this daring combination was exactly what she wanted as her wedding look and theme. Her wedding day and the photos that captured it were unforgettable and stunning; just like the newlyweds.
White
Candice always knew she wanted a clean, white destination Florida Keys wedding. She also loves music, so the white eggs on the place settings were actually egg shakers for her guests to use while dancing to the band. The mirrored place settings paired with the crisp white florals and a plethora of candles placed on mirrored tables was the perfect way to create Candice's beautiful sparkling white wedding.
Lavender
Natalie stayed true to her favorite color when it came time to plan her big day. With lavender on her heart, we added in touches of gold, mauve and rustic woods to make her Florida Keys wedding feel close to her heart and close to her home. All of the gentle details paired with the perfect destination backdrop created such a complimentary contrast.
Green & White
Lindsey wanted to embrace what the Florida Keys does best: the tropics. She also wanted her wedding to have a clean feel to it. Adding in the natural elements of the Keys like tropical greenery and neutral browns, the crisp of the white florals, beaded silver chargers and clear chairs added the perfect touches to marry the two visions together beautifully.
Rustic Elegance
Brea and Adam wanted to embrace their Virginia roots with a rustic wedding vibe. As they dreamed of a formal function, we focused adding in elegant touches to unite the two themes. Their farm tables, cross back chairs and neutral florals paired with pillar candles, gold cutlery and chargers, and formal bridal party attire did just the trick.
Now…your turn!
What colors are you envisioning? What wedding day vibe gets your wedding planning heart soaring? Planning a dream destination wedding should be (and can be) just that: a dream! Whatever your vision may be, dream it–and together, we can do it!  For more great resources The Knot and Wedding wire have made these articles to help you choose your wedding colors.  The Knots article helps you choose your wedding day colors and Wedding Wire has a wedding color quiz!
As destination wedding planners we would love to help you with all the details!  Email us at here to get started on planning your destination wedding in the Florida Keys and beyond.
XOXO,