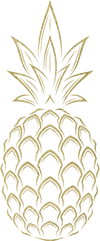 Meet Julia Timmins: Owner, Wedding Planner and Stylist
Hi and thank you for visiting Blue Water Weddings.  Allow me to introduce myself and tell you a little more about how I became a wedding planner, designer and business owner in the beautiful Florida Keys.  Blue Water Weddings was established in 2012 by my pursuit of passion for the wedding industry.  The idea that my career was bringing positivity and love into peoples lives propelled me to reach further and work harder every year to make Blue Water Weddings a fun and unique experience.
Coming from an international back ground of travel to places like Italy, France and Spain, I appreciate the small things in life.  Which is why my passion for detail and meaningful touches exists in every wedding and event we do.
Before my travel I was a student in Canada and studied Law before deciding to live and work abroad on Private Luxury Yachts.  All of my unique experiences led me to Florida where I found my other half Eric, a fishing guide in the Florida Keys and Everglades.  My Wedding Planning was such a natural transition that I was passionate about many years before I became a wedding planner.  The Florida Keys has been nothing but amazing to me and creating strong, lasting relationships has been the backbone of Blue Water Weddings.  With us, you will have the best that the Florida Keys has to offer.
Learn more about Julia
What do you love doing outside of planning weddings?
Take me to the spa! I'm a poolside, brunch loving, facial please, kind of girl when I have enough free time to do it. Boat rides, paddleboarding and calling my family to catch up when I can.
Current at home passion?
Designing new spaces in my home is an ongoing passion of mine. I like changing my space around, even if its just moving a couch or piece of art to a new place in the house. Freshening up my space with a clean look and new lighting. Creating a warm and cozy house, cooking new recipes and my three cats. Yes, I have three cats, love dogs but cats suit my life better.
Favorite movies?
Overboard, Beaches, The Saint, Closer.
Favorite places to travel?
Southern Italy and the entire Mediterranean.
Why do you love wedding planning?
I love the idea of bringing people together. Its an amazing thing to be able to orchestrate something so special. Memories last a lifetime and being able to help create those is an honor and very rewarding for me. I also appreciate that my work surrounds so much positivity, and I am grateful for that everyday.
Favorite moment of the day?
The recessional. Watching the beautiful couple exit the ceremony full of so much joy, and together with the music playing is such a great start to the rest of the wedding. Seeing it all come together on the day of is my favorite part as well. After all the hard work, precision timing and details, watching it all come to life is an amazing feeling.